Wow It's been a while since we've seen professor G. Let's do a link dump here so you can find the little asterisks without having to click back.
A Game of Goats started here
Professor G's first appearance and the boon reference is here
Uncy losing his head is here
I'm still working on an archive page! So I apologize for the links.
Oh man was the VA comic con fun. I had a blast and met some awesome people. Want a quick roundup of people I found awesome?

Jesse Cowan is a scholar and a gentleman. His work "Little Wolf" is beautiful and well worth the look. You can check out his page here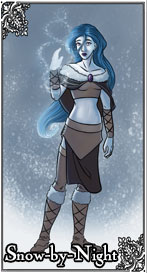 And then there were two of the creative team behind "Snow by Night." Which is a comic about colonial fantasy. Yes colonial fantasy. THEY FOUND A GENRE NO ONE ELSE HAS YET! Or maybe it already existed. Either way it's pretty awesome. Check it out here
I'll probably end up putting one or the other under my links page. But that would require a thunderdome match.
Two webcomics enter.
One webcomic leaves.